Mobile SMS Marketing is an ideal way for driving foot traffic into retail locations. It allows for great frequency in text messaging, thus increasing repeat sales.
SAMPLE ADVERTISING MESSAGE (displayed in store, in newspaper ads, etc.):
Text and Save! Join our Special VIP Customer club and receive our "fresh coupons" directly to your cell phone! Text Your KEYWORD to 90210 now and get 20% off your next purchase. Standard text message charges apply.

SAMPLE TEXT MARKETING MESSAGES:
20% off your grocery bill today at Uncle Fresh! This week's special offers: Mo-We: whole roasted chickens $3.50; Tues: soymilk $1.39; Thu-Sat: oat crunch cereal $0.89; Fresh Norwegian salmon $5.39 lb. Rply STOP 2End Msgs
Top quality Mediterranean olives now available at our store! Visit us for a real gourmet adventure and get the best olives at promotional prices! Virgin Olive oil for $5 per bottle! Greetings, Laine's. Rply STOP 2End Msgs
Happy Holidays from Laine's Grocery! As a special VIP customer you get 15% off bakery items with this message. Rply STOP 2End Msgs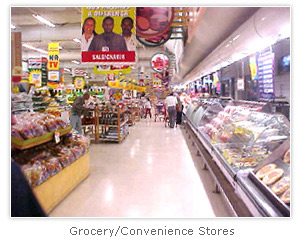 Grocery stores can use SMS to:
Recall products

Send pharmacy refill reminders

Send special savings alerts to your customers

Tell customers what produce is in season
Call Cliff Eldridge at 601-201-2805 for more information today!