Non-Commercial Information Campaigns
The Mobile SMS Platform can be used for non-commercial campaigns as well, especially in the cases when time-sensitive information delivery is of huge importance.
GOVERNMENT AGENCIES
City, county and state officials can immediately contact citizens about various occurrences that may require their attention. The text messages sent through our system could provide important information about:
Boil water orders in specific areas
Hurricane tracking and hurricane emergency tips
The actual status of hurricane evacuation routes
Serious accidents with vehicles that transport poisonous materials
Forth-coming large construction projects that may affect traffic
Encouraging reminders about voter participation in elections
Power outages
Street and highway closures
SAMPLE NON-COMMERCIAL TEXT MESSAGES
Morgan County, Alabama, chooses new Sheriff. Sheriff Elections are scheduled for August 7. Vote for your community! Morgan County Municipality. Rply STOP 2End Msgs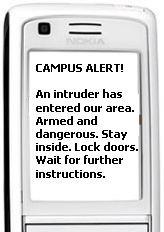 Maintenance of a high-voltage transformer in the Michigan City power station will be performed on November 2. This procedure may result in a 3 to 5 minute power outage between 03:50AM-03:55AM. Pure energy by ElectriCity Inc. Rply STOP 2End Msgs
Whether local or national, informational or potentially dangerous the Mutual SMS Alert service helps to keep the public informed.
Our robust commercial-grade alert messaging platform has been designed to meet the most demanding requirements for successful alert delivery. One the most important features of our platform is the ability broadcast alert messages from authorized mobile phones to all or specified alert groups. For example a campus can grant alert sending rights to all teachers and faculty. In case of an emergency any authorized person can initiate an alert from his or her cell phone without having to be online using a computer. This time saving unique feature can make a difference between failure and life saving alert message delivery.

Call Cliff Eldridge at 601-201-2805 and get all the details today!