Taking user experience to next level
In today's busy world, people want immediate gratification. Give house hunters instant access to property listings using the SMS platform, and easily communicate with them to set-up an appointment or request more information.
Real estate professionals are quickly embracing mobile technologies, including text messaging or SMS (for short message service), photo and video transmissions, maps, Web access and location-based services (LBS) via handheld phones and PDAs. According to the Cellular Telephone Industry Association (CTIA), an estimated 18.7 billion text messages were sent in the United States in December 2006 and more than 1.36 trillion text messages (SMS) were sent and received in the United States during 2009! The median age of consumers who use text messaging is 38 years old — the same as the average homebuyer.
In today's real estate market, realtors will gain a competitive edge by deploying our advanced real estate marketing solution. By utilizing our system, realtors provide potential home buyers with immediate, on-site access to information and photos of property listings. All potential customers have to do is text the unique code shown on your yard sign to 90210 and they will immediately receive all pertinent information right on their cell phone! As the potential home buyers are reviewing the property listing, the realtor or listing agent simultaneously receives the contact information of the interested party on their cell phone or alternatively via email. Now you can call or text message your potential customer while they are on site to explore their interest level and set an appointment. Talk about a hot lead!
Great Benefits!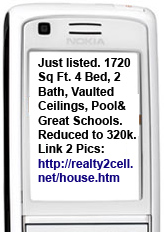 Instant Hot Leads!
Extremely Cost Effective!
Works 24/7!
Recommend Similar Properties - Even Send Them Pictures And Maps!
Our Messaging System Is Never Empty Or Wet!
No Paper To Be Misplaced or Lost
Client Doesn't Have to Leave Car To Receive Info!
Information Saved On Customers' Cell Phone
Interact With Your Client While They are On-site!
Deliver Details and Pictures While Potential Client Is ON-SITE!
100% Permission-Based Communication Puts Clients At Ease!
Make A Great First Impression!
With all of the mobile technology choices available today, choosing the right partner to complement your mobile strategy is more important than ever. Mutual SMS is well positioned to provide state-of-the-art mobile messaging and marketing technology, services, and global reach, together with the latest mobile industry knowledge.
Customized Mobile Tools for Real Estate Industry
Our Mobile Relationship Manager is one of the most comprehensive mobile marketing and messaging technology offerings available today. From basic SMS to the most advanced client-driven mobile offering - real estate agencies and professionals can choose from a range of innovative products and services designed to be fully scalable to assist the growth of your business through a solid mobile technology strategy. You can also count on a dedicated and expert team of mobile marketing and technology professionals to accompany you as the next chapter on the mobile phone unfolds.
You can test our carrier compliant platform by sending keyword REWARDS to 90210. To opt out from the list send keyword STOP to 90210.

Call Cliff Eldridge at 601-201-2805 and get all the details today!